Memory Care
Alzheimer's and Dementia Care
At Maplewood Senior Living, we hold special regard for residents with Alzheimer's disease and memory impairment.  We believe that while memory loss means living with certain challenges, it should not stand in the way of leading a life of dignity.
Our emotion-based philosophy of care, HEART™ (Humor, Empathy, Autonomy, Respect/Reaching out to others, and Trust and Triumph) helps to engage residents so they can continue to enjoy life to their maximum potential.
Our two levels of memory care address the unique needs of residents with early, moderate, and advanced stages of memory impairment.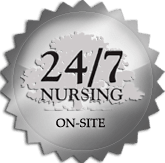 Memory care options and services include:

Tides™
For those living with earlier memory impairment, Tides™ is the perfect environment. We have spacious, private apartments, enrichment programs and beautiful common areas.
A dedicated Tides Coordinator oversees the daily routine of our dementia care residents and assists them to navigate successfully throughout their days and nights.
Please take a few minutes to view our memory care brochure.
Currents™
Currents™ was created for those needing more support and who are living with mid and later-stage memory impairment. From the secured courtyard to the bright, modern country kitchen, our communities and grounds are designed to make dementia care residents feel safe, cared for, and comfortable.
All of our associates are trained in techniques to communicate positively with those living with Alzheimer's disease and dementia. Our staff of associates provide professional and loving care to residents with a wide range of needs – from those who require a little extra help with daily activities, to those living with greater memory impairment.