Brain Fitness
---
Touch of Heart™ Brain Fitness Center
Researchers have acknowledged that brain exercise can have an effect on cognitive function.
Studies show that brain exercise is beneficial to seniors in regards to cognitive functioning. Maplewood Senior Living's Touch of Heart™ program utilizes technology to exercise the brain and communicate with others, including family and friends, as well as participate in stress-reducing experiences. People are more likely to engage in activities in which they feel a more personal connection.
Our Expert, Caring Staff are the HEART of our Community
A Touch of Heart™ utilizes the HEART™ approach, an acronym for Humor, Empathy, Autonomy, Respect and Reaching out to others, and Trust and Triumph. This state-of-the-art program personalizes the technology so that seniors are connected to the program and more likely to stay engaged in the activities to continue to enjoy life to their maximum potential.
Care for the Mind and Body
Accumulating evidence shows that it is possible to ward off age-related decline in cognitive function by means of regular mental exercise and physical activity. Both of these activities increase blood flow to a variety of areas within the brain, and in doing so, encourage brain cell vigor and growth. Additionally, it has been shown that socialization, reduced stress, proper nutrition, and adequate sleep help the individual bolster their functional abilities.
This form of stimulated growth and adaptation has been termed the development of a "Cognitive Reserve" – a sort of savings account for brain functionality – by scientists at Columbia University (Stern, 2006). In addition, it is widely believed that cognitive exercising increases the efficiency of connections between neurons, allowing the brain to function utilizing fewer resources. These biological processes may be responsible for preserved cognitive functioning and independence in the elderly, even when biological markers of dementia or Alzheimer's disease are present.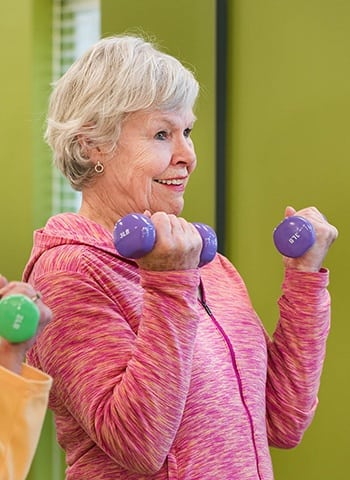 The Importance of an Active Mind
Just how important is cognitive exercise and cognitive activity?
A recent study by Wilson in the Journal of Neurology in November of 2007 showed that people who are cognitively inactive are 2.6 times more likely to develop Alzheimer's disease than cognitively active people.
The researchers also found that frequent cognitive activity was associated with reduced incidence of mild cognitive impairment and less-rapid decline in cognitive functions.
Gain a New View
Call us today for a live demonstration of Touch of Heart™ Brain Fitness. See for yourself how our vibrant, beautiful assisted living and memory care communities – and our programs and services – can inspire you to feel differently about aging.