Skilled Nursing and Rehabilitation
Skilled Nursing & Rehabilitation on Cape Cod
Mayflower Place Nursing and Rehabilitation Center offers a comprehensive continuum of clinical care options to meet your unique needs and goals. Whether you require short-term rehabilitation or long-term extended care, you will feel confident and at ease in our warm, home-like environment, designed to inspire your peace of mind.
Located in beautiful West Yarmouth on beautiful Cape Cod, Mayflower Place Nursing and Rehabilitation Center is located on the campus of the well regarded Maplewood at Mayflower Place, a continuing care retirement community renowned for its long-term reputation of excellence in care and service.
Our 72-bed skilled nursing and rehabilitation center is staffed with an experienced team of healthcare professionals who get to know each patient personally, so that they can offer care, programs, and activities that suit their interests and enhance their everyday well-being.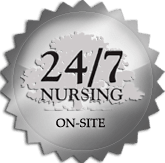 Mayflower Nursing and Rehabilitation Center offers the following programs:

Short-Term Rehabilitative Care
Professional skilled nursing care, 24/7
Physical Therapy, Occupational Therapy, Speech – Language Therapy
Lab and x-ray
Audiology, optometry, podiatry, dental, and mental health services
Insulin therapy
Total parenteral nutrition
Hospice Care
Dysphagia and swallowing disorders
Communication disorders
Medical, social, and discharge planning
Wellness education
Medication management
Diabetic and nutritional education
Specialty Programs
Post-surgical orthopedic care
Post-surgical and complex wound care
Neurological care
Cardiac recovery
Diabetic care
Fall reduction
Respiratory care
Intravenous therapy
Nutritional management
Pain management therapy
Total parenteral nutrition
Insulin therapy
Extended Care
Mayflower Place Nursing and Rehabilitation Center delivers peace of mind, offering patients the dignity of living they deserve.
Skilled nursing care, 24/7
Individualized menu planning
Therapeutic activities
Medical social service assistance
State of the art rehabilitation for physical, occupational and speech therapy
View our brochure and learn more about our Nursing and Rehabilitation Center.
Experience the comforts, conveniences, and scenic location of Mayflower Place Nursing and Rehabilitation Center. Call or email us to schedule your Welcome Visit today.