Friendship Suites™
---
As we are all aware, people are living longer than ever.
Sometimes, people live successfully in an assisted living community, but concerns over finances arise over time. Other people just might not enjoy living alone. Either way, Maplewood at Mayflower Place recently introduced Friendship Suites - a new assisted living program that allows two residents to share an apartment (while still having their own private bedroom) with a significant monthly cost savings. 
Finally, a Solution to Help
Friendship Suites™ was inspired by our belief that life is most fulfilling when it is shared. The program promotes socialization and builds rewarding friendships in a supportive environment.
According to research, elderly people are more prone to depression and other mental-health problems if they live on their own. Learn more about this unique program and the rewards it can bring to your daily lifestyle.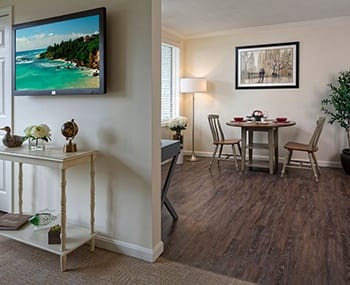 Friendship Suites™ Provides Multiple Benefits, Including:
Greater Savings

Lower the cost of a suite without compromising your privacy. Each apartment includes a private bedroom and bathroom for each resident, a shared common area, and access to all the benefits of a full-service retirement community. 

Everyday Inspiration

Living with a friend boosts self-esteem and confidence, which fosters an active and engaged lifestyle. 

Joyful Living

Seniors who enjoy companionship are more mentally alert and feel happier day-to-day. 

Sense of Belonging

Shared living allows seniors to feel engaged with the world around them and alleviates feelings of isolation and loneliness. 

Shared Journey

Maplewood at Mayflower Place carefully assesses personality types and interests, and matches seniors who are best suited to become lifelong friends. 
One Monthly Rental Fee Still Includes:
Three farm-to-table, fresh, and delicious meals each day
Daily activities and recreational opportunities
Transportation to medical appointments, shopping, and more
Utilities, including electricity, heat, hot water, etc.
Weekly housekeeping and laundry service
Access to visiting doctors and medical specialists
Friendship Suites™ is a personalized program intended to provide premier services and solutions to Maplewood residents and their families. Download our Friendship Suites™ PDF. 
To learn more, contact Maplewood at Mayflower Place.